Remote CCTV Monitoring
Remote CCTV monitoring gives you peace of mind, you can relax knowing that you have a solution that provides a 24/7 security managed by expert security personnel.
Our Remotely Monitored CCTV solutions act as an active deterrent, allowing immediate action to be taken, preventing or reducing damage or loss of property. CCTV footage that isn't remotely monitored can provide you with evidence after damage has been done, but a monitored system can help prevent it entirely. We offer CCTV services in Manchester, Liverpool and Warrington
Fill out our contact form or call us on 
01925 661752

 to find out more about how our Remote Monitoring Service can protect your home or business.
How does our Remote CCTV Monitoring work?
We work with the cutting edge technology from industry leading suppliers to provide you with an effective Remote CCTV monitoring solution that is also cost-efficient.
Our process:
Your CCTV system is connected via the Internet to a secure monitoring station, sending images from your CCTV cameras direct to our security personnel.
 The footage can be monitored 24/7 or during selected hours, often outside of normal business hours or when the property will be empty.
Our smart security systems inform security personnel in the event of an alarm being activated. To provide the best view possible, cameras are then re-aligned, zoomed or an alternative viewpoint is selected.
Our professional security personnel then manually monitor the CCTV footage, looking at recent footage as well as live footage to properly assess the situation.
If a risk is identified by our Remote Monitoring centre, we react to manage the situation by either:
Communicating directly with the intruders via an inbuilt tannoy system
We can inform you if required
We contact the emergency services
Normally, intruders are deterred by the tannoy system and the knowledge that they have been detected, but in the event that they aren't, our team is in a position to ensure the emergency services can act accordingly to resolve the incident.
Products

ADPRO Xtralis iFT
The new ADPRO iFT is the series' entry model, offering up to 16 IP channels. This IP video multi-service platform runs the powerful XOa 3 SecurityPlus Remote Programmable Operating System

HeiTel™ CamTel VG 4 - 10
Digital video transmission system for 4 or 10 analogue or IP cameras. Hybrid functionality with manufacturer-neutral compatibility for analogue and IP cameras.

Vista Fixed Cameras / Bullet 
The VK2 range is a true day/night 3 Mega pixel IP Bullet with IR LEDs and remote lens set up, featuring a technology set normally associated with more expensive products.

Redvision X-SERIES™ IP HD CCTV Cameras
The RV30 (1080p/720p) rugged PTZ and dome series is a high-quality, Full HD, IP camera range. It is designed and manufactured in the UK by Redvision and is ideally suited to tough, outdoor surveillance applications.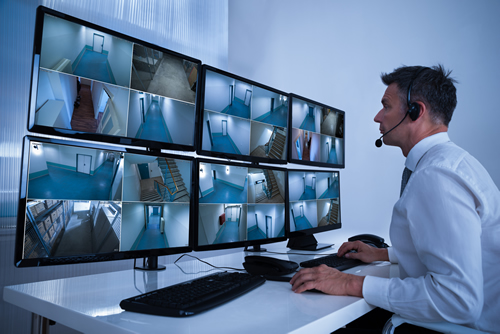 Remote CCTV Monitoring
Regional and national operation offering 24/7 Remote CCTV Monitoring 365 Days a Year

DS-9600NI-I8 Series NVR
Professional and Reliable - it has a Dual-OS design to ensure high reliability of system running. ANR technology to enhance the storage reliability when the network is disconnected.
Find out more
Remote CCTV Monitoring across Warrington
From our head office, based in Warrington, supply and install CCTV and IP CCTV systems throughout the UK. Our team of engineers are trained to install a CCTV system that fits your specific requirements ensuring your peace of mind.
Our professional monitoring operators then enhance this system, providing comparable security to a manned presence with the following benefits:
24/7 live monitoring

No intimidation or threats from intruders

Coverage of multiple areas at once, allowing one person to view the entire sitequickly and efficiently and from positions impossible for guards to access

Rapid emergency response

Ability to move and manipulate camera angles

Typical savings of 25-50% compared to alternative solutions

All of this while reducing the risk of theft and vandalism, disruption to your business or home life and insurance costs.

The best bit? All you need to do is pay one low monthly fee.
Making the switch from manned security
Making the switch from on-site security guards to a remotely monitored security system is a big decision, and on-site security is important, but with costs being such an important factor when choosing a security solution, monitored CCTV offers the most rounded and cost-effective solution.
At a quick glance, CCTV systems can seem costly. The initial outlay for installation can seem daunting, however, when combined with remote monitoring, CCTV provides a visible deterrent which can also offer evidence in the event of an incident, something crucial when considering a security solution.
The biggest benefit of making the switch? After the initial installation, low monthly payments cover you for maintenance, monitoring, and response. Your site will have an accurate and effective CCTV system deterring criminal activity giving you peace of mind and saving you money.
Guarded security in comparison can come at a high cost to facilitate training, shift management, equipment and more, alongside hourly rates increasing year-on-year. In addition, most sites need more than one guard to cover the entire site, increasing costs further.
When it comes to providing a security solution that provides easy to manage and effective security at an affordable price, monitored Remote CCTV is the right choice.