Fire Alarm Systems Installation
Protive Security & Surveillance provide a comprehensive range of Fire Alarm Systems offering open protocol solutions which enable Conventional, Addressable, and Wireless Fire Alarm Installation.
Fire Alarm Systems form the core of your buildings fire strategy, so it's important the system is designed, installed and maintained correctly. We work to the strictest standards to support your commercial, industrial or residential fire alarm needs. Our expert engineers will guide you from the initial plans and architectural drawings, through to the installation and setup of your system.
We also offer fire alarm instillation services in Liverpool and Manchester 
Interested in finding out more, or do you have a question about our Fire Alarm Systems? Fill out our contact form or call us on 01925 661752
The Twinflex Pro Alarm System in action
Fire Alarm Systems for Residential Properties, Commercial Properties and Industrial units.
We offer you the latest technology from industry leading suppliers, ensuring that the system we install is tailored to fit your specific requirements. This means we provide you with all the required functionality, flexibility to expand and upgrade, and the ability to connect with existing systems.
One example of the type of technology we employ is the Texecom Premier Elite Series of alarm panels seen in the above video, but we offer a range of panels such as Risco's Agility™ 3 and the Galaxy G2-20 from Honeywell.
Our Key Features:
Remote monitoring through CSL Dual Com, BT Redcare, Webway One, Emizon.
Compatibility with Intruder Alarm Systems.
Full maintenance packages on any installed Fire Alarm System
Flexible systems with high reliability and integrity
Installations that meet insurance company requirements
24 hour, 365 days monitored protection
Suitable for all commercial and industrial premises
Installed and maintained by a committed and dedicated team of Protive trained engineers
Free risk assessment
Fire Alarm Systems
Fire alarm systems play a crucial role in protecting lives and property by providing early detection and warning of fire hazards. Their ability to promptly alert occupants and emergency responders significantly reduces the risk of injuries and allows for timely evacuation and a prompt response from the fire service if required.
Can I install my own fire alarm system?
Installing a fire alarm system requires an understanding of the specific requirements for different types of buildings and the appropriate placement of detectors, as well as the proper configuration and maintenance of the system. Therefore, it is advisable to consult with experienced fire alarm system installers to ensure the installation is done correctly and meets all safety requirements.
Who is responsible for installing a fire alarm?
The responsibility for installing a fire alarm system typically falls to the property owner or the person in control of the premises. This can vary depending on the type of building and its purpose.
The Regulatory Reform (Fire Safety) Order 2005 outlines the duties and responsibilities of a designated responsible person for fire safety in non-domestic premises. In most cases, it is recommended to hire an experienced commercial fire alarm installation team to ensure compliance with regulations and to guarantee the system's effectiveness and reliability.
Do you need an electrician to install a fire alarm?
Fire alarm systems are electrical systems that require proper wiring, power supply connections, and integration with other electrical components. A qualified electrician will have the expertise to handle these electrical aspects of the installation safely and in compliance with regulations. A qualified electrician can ensure that the fire alarm system is installed correctly and in accordance with applicable electrical codes and standards.
Do you need a fire alarm system for your business?
The Regulatory Reform (Fire Safety) Order 2005 sets out the legal obligations for fire safety in non-domestic premises, including the requirement for an appropriate fire detection and alarm system. The specific requirements for fire alarm systems may vary depending on the nature of the business, the size of the premises, and other factors.
It is essential to conduct a fire risk assessment to determine the appropriate type and coverage of the fire alarm system for your business. This assessment takes into account factors such as the layout of the premises, the number of occupants, the presence of flammable materials, and other relevant hazards. A commercial fire alarm system installation can advise about the kind of fire alarm installation that would be most appropriate for your premises.
Commercial fire alarm installation
Commercial fire alarm installation is a critical aspect of ensuring the safety and protection of businesses. A professional fire alarm system installer will assess your premises and determine the type of system you will require. They will ensure that it's correctly designed, installed and maintained, giving you comprehensive coverage. This will ensure you meet your regulatory requirements, reduce the risk of fire and maintain the safety of your staff, customers and premises.
Products

C-TEC XFP
C-TEC's market-leading EN54 certified XFP addressable fire panel offers optimum performance at a very competitive price. Available as a cost-effective single loop 16 zone panel in a plastic enclosure or a robust 1 or 2 loop 32 zone metal panel, it offers an array of user and installer-friendly features.

Kentec Syncro AS
Syncro AS is a versatile range of open protocol fire alarm control panels compatible with existing Syncro fire alarm panel technology. Syncro AS uses leading edge microprocessor based electronics to provide a flexible control system with high reliability and integrity.

Advanced TouchControl
Advanced makes fire systems that do not compromise on performance or ease-of-use. TouchControl is a touch screen solution and sets the standard in the fire industry.

Fike TWINFLEX SRP
The TWINFLEX SRP is a Single hazard Releasing Panel that is suitable for use in any market that requires an EN 54 approved control panel. The unit can be used as a standalone solution, or can be interfaced to external fire safety systems through its versatile set of monitored inputs.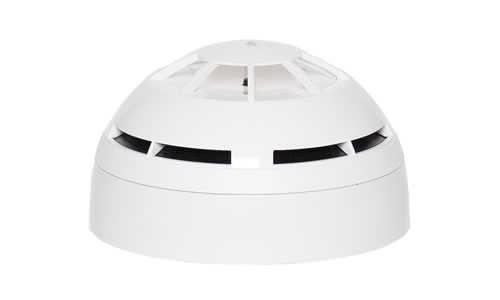 Hyfire Wireless Heat & Smoke Detectors
Hyfire wireless intelligent point detectors come in three variants; Optical, Thermal and Multi Criteria, making them suitable for use in a wide range of applications.

Hochiki Smoke Heat & Flame Detectors
Model DCD-AE3 is a Rate of Rise Heat Detector with a 60 °C fixed temperature element using a thermistor and linearising circuit to provide an accurate linear response Heat Detector.
Find out more
Fire Alarm Systems in Warrington
From our head office in Warrington, Protive supply and install fire detection systems throughout the UK. Our team of fire alarm system installers are trained to install many different types of fire alarms, including addressable, nonaddressable, and wireless solutions.
We work with our customers to ensure that when providing a new fire detection system, we design the appropriate system to suit our customer's requirements, whilst adhering to the appropriate health & safety legislation.
As members of the FIA (Fire Industry Association), we want to reassure you that our working practices fully meet those set out by both the current British and European standards.
Fire Alarm Installations across Warrington
Whether you need a state of the art fully addressable Fire Alarm System or a more simple detection system, you can trust Protive. Our recommendations are determined by a number of factors such as the building structure, contents, the purpose of the system, and any Fire Safety systems already installed.
Unlike many companies, Protive have engineers who can work on a variety of systems across multiple manufacturers, including, Kentec, Twinflex, Hyfire, Advanced, C-Tec, and more. Our dedicated team of technicians have worked on hundreds of different properties and sites across Warrington and the entire North West, providing installation and maintenance services for a range of companies and individuals.
What type of fire alarm system should I choose?
All Fire alarm systems are designed to perform the same job; if they detect heat, smoke, flames, or if an alarm is manually triggered, then an alert is raised to inform persons in the building of potential danger and risk, and to evacuate the building. Many fire alarm systems now even incorporate remote signalling equipment to alert a keyhole or fire authority via a remote receiving centre.
Fire Alarms fit into three main categories:
Conventional fire alarms
Conventional fire alarm systems typically consist of a number of zones with a range of components including fire detectors, sounders, beacons. Each zone contains a single wiring circuit encompassing a physical area within a building. The control panel usually has only 3 three states: standby, fault or fire, and communication between devices is limited. Zones are associated with a particular floor or sector of a building to give an estimate of where the smoke or fire has been detected, without giving a specific location.
These fire alarm systems generally have limited options for expansion, such as repeater panels which mirror the display and controls of the main panel or options to connect with other systems such as intruder alarms.
Conventional alarms as an older (but still viable!) solution, are generally more reliable and lower cost than the alternatives.
Addressable fire alarms & Intelligent fire alarm systems
Conventional fire alarms provide a cost-effective, adequate fire alarm system more suitable for small buildings. In more complex and larger buildings however, a more 'intelligent' and complex system is often a much more suitable solution.
Addressable alarms offer numerous benefits, from the speed of detection through to accurately detecting the location of the fire. Devices on the system communicate and are powered via the same cable, reducing the amount of cabling required, making maintenance easier and installation and repair costs lower.
Groups of detectors on the same loop of cable, passing through different areas of the building, can be grouped into zones related to geographical locations. Using programmable panels and connected zone based devices, users receive informative and accurate alarm announcements as to the type of alert and where the detection occurred. Networks can be expanded and zones added using multiple interconnected panels.
Wireless fire systems
Wireless fire alarm systems operate in the same way as normal hard-wired systems, utilising a control panel, smoke or heat detectors and manual call points to detect fires, and sounders to alert building occupants, but differ from wired systems by communicating via radio waves rather than cabling.
This allows the quick installation of an affordable system, with minimal disruption to the building and its surroundings.
The advantages of this are numerous:
Limits the need for unsightly cables, and disruptive installation work making it ideal for historical or listed buildings.

Ideal as a temporary solution for construction sites.

Easy to adjust or amend the system if the building layout is adjusted.

Aesthetically pleasing as cabling is reduced, and is significantly less visible than wired solutions.
Today's commercial and industrial market consists of a huge variety of projects, including everything from modern buildings, to listed Historical structures through to temporary buildings or empty warehouses, all of which have their own unique challenges when it comes to wiring. Wireless alarms allow you to avoid all of them.
Fire Maintenance and Monitoring
Since the Regulatory Reform (Fire Safety) Order in 2005, it's become a compulsory requirement that all Fire Alarm Systems are serviced at least twice a year, and and the entire system is checked at some point within a year.
We perform scheduled assessments and maintenance as well as emergency call outs through Warrington, ensuring our clients are protected and meet all compliance requirements.
We can also provide Remote Monitoring of your Fire Alarm System, including setup of a brigade response, and although not all authorities will guarantee to attend an activation unless a fire has been confirmed.