Fire Alarm System – Saint Helens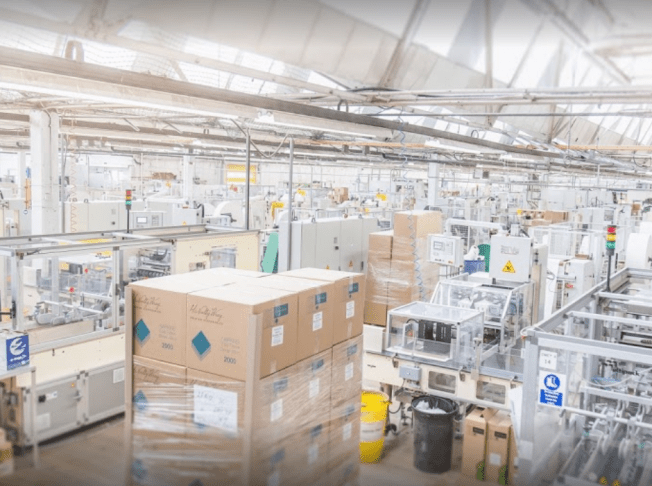 Background Information: Fire Alarm System in Saint Helens
Poppies Europe Ltd, a paper-based product company based in St Helens, approached Protive as they needed to upgrade their Fire Alarm System to meet regulations. They operate over two locations on the same industrial park, producing and storing large quantities of highly flammable materials. As a result, fire safety and security are critical to the business. Providing protection for staff as well as stock, production equipment, and the property was a priority.
The Problem: The current Fire Alarm doesn't meet the required regulations, & previously proposed solutions weren't suitable.
Poppies Europe had previously approached 2 other providers in an effort to find a solution that met their regulatory requirements. They also wanted a solution that was well priced and could be installed with minimal disruption to the business. Neither of the proposed solutions was able to fulfil meet the necessary specifications.
The Solution: A cutting edge, advanced 300 zone fire alarm system
To meet the fire safety regulations and protect staff, stock, and property, we fitted:
A Master control panel in the reception area, and a repeater panel in the main warehouse.

This provided control over the entire system from a centralised location and a second satellite location.
This addressable panel also provided location-specific information for any alert generated by any connected sensor or alarm.

Over 300 heat/smoke detection devices for the first site.
This work, starting from the initial planning phase and continuing right through to completion of the project, took between 6 and 8 weeks. A second phase to add the same level of protection to an additional location nearby will take 3-4 weeks to complete.
Additional work completed
While on-site, our engineers identified the use of an outdated lighting setup in use in the warehouse. This presented a health and safety hazard that our engineers highlighted to the staff at Poppies Europe. They made recommendations on how to change the light fittings and connections to make them safer and compliant with health and safety. Poppies Europe approved the suggestions and our engineers installed new lighting.
Customer Experience
The team at Poppies were happy with every aspect of our service and were particularly impressed by the professionalism of our engineers and installation team, and the quality and precision of the installation.
Back