Types of commercial fire alarm systems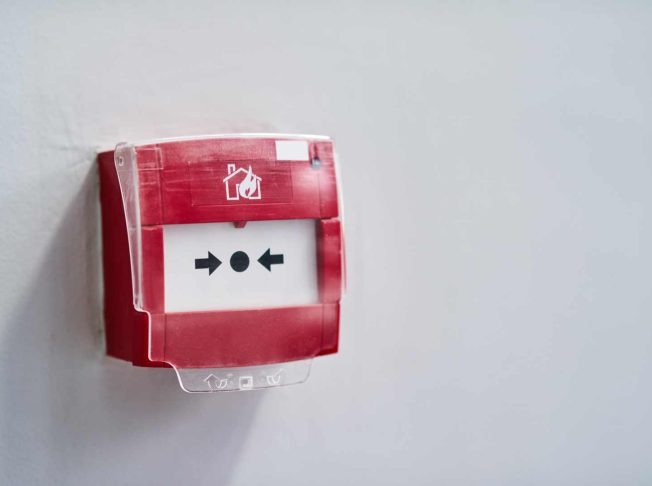 If you're considering fitting a commercial fire alarm system in your premises you will need to make a decision about which of the different types of fire alarm system is most suitable.
There are a number of types of fire alarm systems used in the UK including analogue, digital, manual, automatic and many more. In this article we identify the benefits and drawbacks of each of those below.
But what are the four main types of fire alarm systems?
Which is the most commonly used, and which should you install in your commercial premises?
What are the different types of fire alarm systems in the UK?
There are four main types of fire alarm systems that are widely used in the UK:
Conventional Fire Alarm Systems
Conventional fire alarm systems divide a building into zoned areas and each one is connected to a specific circuit. If the system detects a fire, it triggers a warning that identifies the zone where it has broken out rather than a precise location. While conventional systems provide basic fire detection and alarm functionality, the inability to pinpoint the exact place a fire is burning can be a drawback that increases risk in large commercial properties. A conventional fire alarm system will be connected to smoke and heat detectors such as the C-TEC Activ range. These are available in optical, fixed heat, rate-of-rise and multi-sensor variants.
Addressable Fire Alarm Systems
Addressable fire alarm systems allow for a large number of different devices such as smoke detectors and sensors to be fitted to a control system. Each device that is connected will have a unique name and address that makes it straightforward to locate the fire or smoke. You are also able to find each individual smoke detector, heat detector, and manual call point. This means that emergency responders can react quickly and the building can be evacuated when necessary. Advanced fire alarm control panels, like the MxPro5 series installed by Protive, provide a range of programmable functions and can be configured for use with every type of complex multi-area system.
Wireless Fire Alarm Systems
Wireless fire alarm systems incorporate wireless technology to provide non-intrusive connection of devices to the control panel. Extensive wiring isn't required, making wireless fire alarm systems flexible. They are often fitted in places where installation of wired systems may be challenging or could compromise the historical character of the property, for example in a Grade I or Grade II listed building. Contemporary wireless alarm systems, like the Ekho range, provide high levels of reliability, are simple to install and can be configured to the size and complexity of the building.
Aspiration Fire Detection System
Aspiration smoke detection systems function by detecting microscopic molecules of fire at the pre-combustion stage. This means that a good aspiration detection system will detect a fire is about to start even before there is smoke or flames. The system takes samples from the air, drawn by a pump from several different locations where a system is installed, and tests for the presence of smoke particles. When smoke is detected, the system activates an alarm to warn a building's occupants and prompt evacuation. This type of system is most often found in:
Schools, colleges, or universities
Healthcare providers
Government buildings
Chemical production sites
Food or pharmaceutical production facilities
Energy, data, or telecommunications centres
Fire and smoke detecting systems serve different purposes but are often used together in comprehensive fire detection and alarm systems to provide enhanced safety measures.
What is the most commonly used fire alarm system?
Addressable fire alarm systems are the most common choice in all but the smallest commercial premises. This is because of their advanced features and precise event location capability. They are particularly beneficial for larger addresses where a zonal approach to fire detection could introduce delays to the fire being accurately located.
Addressable fire alarm systems are installed in office buildings, shopping centres, hotels, and at chemical sites.
A professional fire alarm system installer will be able to advise about the most appropriate type of fire alarm system for your property.
What is the British Standard for fire detection and alarm systems?
In the UK, fire detection and alarm systems are regulated by the British Standard BS 5839. This provides guidance and recommendations for the planning, design, installation, commissioning and maintenance of fire detectors and fire alarm systems in and around non-domestic and domestic premises.
The standard consists of several parts, each of which focuses on different aspects of fire detection and alarm systems. Part 1 covers the design, installation, and maintenance of fire detection and fire alarm systems in non-domestic premises. Part 6 provides recommendations for fire detection and fire alarm systems in residential buildings, including shared areas and individual dwellings.
Complying with the relevant parts of BS 5839 ensures that fire alarm systems are properly designed, installed, and maintained to meet the required standards of performance and reliability. Following these standards helps to enhance the overall fire safety of commercial buildings and protect occupants and property in the event of a fire incident.
Commercial fire alarm systems from Protive Security & Surveillance
Protive Security & Surveillance provides a comprehensive range of Fire Alarm Systems offering open protocol solutions which enable conventional, addressable, wireless fire alarm systems or aspiration fire detection systems. We are BAFE-registered for the design, installation, commissioning and maintenance of fire detection and alarm systems. This guarantees the highest standards of safety for every installation giving our customers security and confidence in our services.
Our expert engineers will guide you from the initial plans and architectural drawings, through to the installation and setup of your system.
To find out more, complete our contact form or call us on 01925 661752.
Back