The benefits of remote CCTV monitoring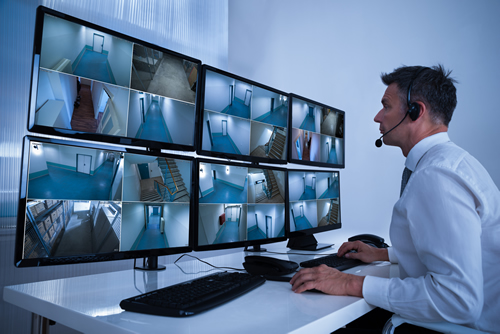 You can take the pressure off your own business security by ensuring that there is always somebody keeping a watchful eye on your assets.
Get a highly experienced team to install and provide a remote CCTV Monitoring service for your site.
Beyond just simply offering a watchful eye, Protive can build the best maintenance and monitoring packages to fit your business needs. Whether you have an individual company or multiple locations on a regional or national scale we can offer the coverage that is constantly ensuring your business is secure.
Operators can immediately contact the emergency services, the named keyholder, or whoever you need them to contact, to ensure that they are acting on any incident. Reports can also be created and sent to the relevant parties if they need to be. All recordings are kept for a month to ensure that, if they are needed by police or business owners, they are available.
Have a security system that stretches beyond just CCTV. Our remote monitoring can also tie into barrier access and intercoms, ensuring that even if premises are empty it always gives the impression of being manned by a guard.
With a range of cameras that are able to see in dark conditions, we are able to provide CCTV that matches your needs and will match your budget. Meanwhile, the Redvision X-SERIES offer high definition recording aimed at outdoor, rugged environments.
Find out more about how our services can protect your investment.
Back