Control your home security and more from a mobile phone app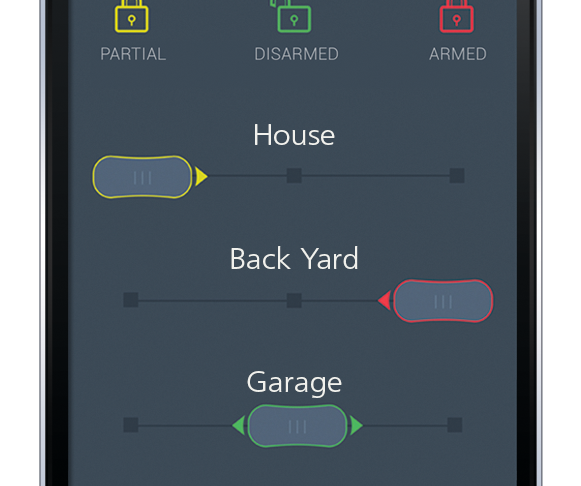 With the latest smartphone technology, you can be in control of your home while out and about, in ways that you haven't been able to before.
This is more than just a way to check your CCTV via an app. You can be in complete control of your family and home's security. Your house security can be set-up, the lights can be turned on or off and the heating changed, just at the click of a button from anywhere.
Compatible with RISCO's security systems, the iRISCO Smartphone App allows you total control of what you need.
Control your home's lights remotely
If you're rushing to get out of your home, it can be easy to forget if you've set all the alarms, turned the lights off, locked the garage and switched the heating down. It's even worse if you've rushed to get to the airport, or just have a little niggle of a doubt when you're sitting in work and you know the house is empty. With just a click of a button on your smartphone app, you see exactly what is happening, what alarms are set, and turn on presets. You can turn lights on when it gets dark, turn the heating on as you get closer to your home, or open the garage doors as your car approaches. If the alarm does go off, you can see exactly what is happening using IP CCTV and decide what steps you need to take next.
See where problems are even when the intruder alarm is turned off
The system remains on even when disarmed, meaning that if you are at home and the fire alarm goes off you can check immediately on your phone where the issue is and what's happening, be that something serious, or if you've just burned the dinner.
Check in on loved ones via the mobile app
While you're away on business, you can always use the system and CCTV to check in on your loved ones to see they are OK and have peace of mind that they are all safe in the home. You can use CCTV to check who people are and then disarm the system if it's one of the children coming home from school. All the images are in high-quality.
Keep a log of incidents
You don't need to worry about keeping track of events or saving any images saved from CCTV. The app stores all events in the cloud, meaning you can keep an eye on exactly everything that has happened in your home.
Let loved ones get notifications from the system while you're away
You will not have a problem if you're off on holiday. The system allows friends, neighbours, or family members to receive notifications on their phone.This will save you having to worry, or if you are going to be uncontactable.
For more information about installation and what the system is capable of, please get in touch.
Back