IP CCTV system with ANPR installed in Warrington, Cheshire.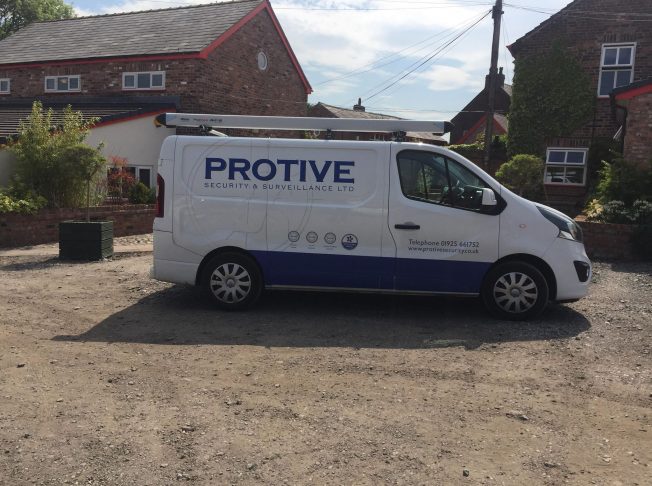 Background Information: IP CCTV System Including ANPR Installation in Thelwall, Warrington.
Protive were contacted by a rural business community, based at Laskey Farm in Thelwall. The location includes multiple offices and mobile buildings that are home to a range of companies. It includes a large gravel car park behind the offices, as well as a stable and farmland. The owner of the site, based in Warrington, requested a CCTV system.
The Problem: Unauthorised entry & fly-tipping.
The site has had issues with unauthorized access and as a result people using the land for fly tipping. The owner was looking for ways to protect it while also deterring those looking to misuse the area.
The owner wanted some form of a camera system to record all vehicles coming into and leaving the site, recording time, date, and high-quality images of the car and license plate.
The Solution: A HIK Vision networked IP CCTV system with Vehicle ANPR.
We solved the problem by installing a cutting-edge HIK CCTV number plate recognition system. Subsequently, the systems records anyone that enters or leaves the site, as well as the car park area.
The installation included:
A complete HIK Vision CCTV IP Networked System

One HIK Vision Vehicle ANPR 2 Megapixel Camera situated on the entrance to the site, automatically recording registration plate numbers and store them on a server.

The installation of a HIK Vision s5 Megapixel Camera overlooking the courtyard

Another HIK Vision Auto Tracking Fully functional Pan, Tilt and Zoom camera overlooking the car park and refuse area automatically tracking and recording movement

The addition of a HIK Vision 12 inch TFT Colour Control Monitor

16 Channel Digital Hard Disk Recorder unit with 12 TB data storage
The system allows users to perform a look-up for registration plates for any arrival or departure. The businesses can then export the records into a range of formats including image, video, and spreadsheet.
Over 6 weeks of data is stored and can be exported for more long-term storage. The team completed the installation quickly, taking less than 3 days with no disruption to the operation of the site.
Resident businesses can now access the recorder unit via an App or web access and configure any notifications deemed suitable.
For more information on our IP CCTV systems and how we can help secure your property, head over to our IP CCTV page, or get in touch.
Back